What does it mean to have a virtual or remote meeting? What are the advantages for businesses of having meetings by video-conferencing? What should you keep in mind when choosing virtual meeting software? We will answer all your questions and then compare the most used platforms.
 
What is a virtual meeting?
Virtual meetings allow their participants to hold meetings online, remotely, from a computer, tablet or even their smartphone.

The system creates a unique meeting link (a URL) that you can send to all meeting participants. Each participant, wherever they are, will be brought virtually into a meeting room and will be able to see, hear and speak with the other participants during the online meeting. All they need is an Internet connection and a platform suited to their needs.

Virtual meetings are also called remote meetings, online meetings or video-conferences.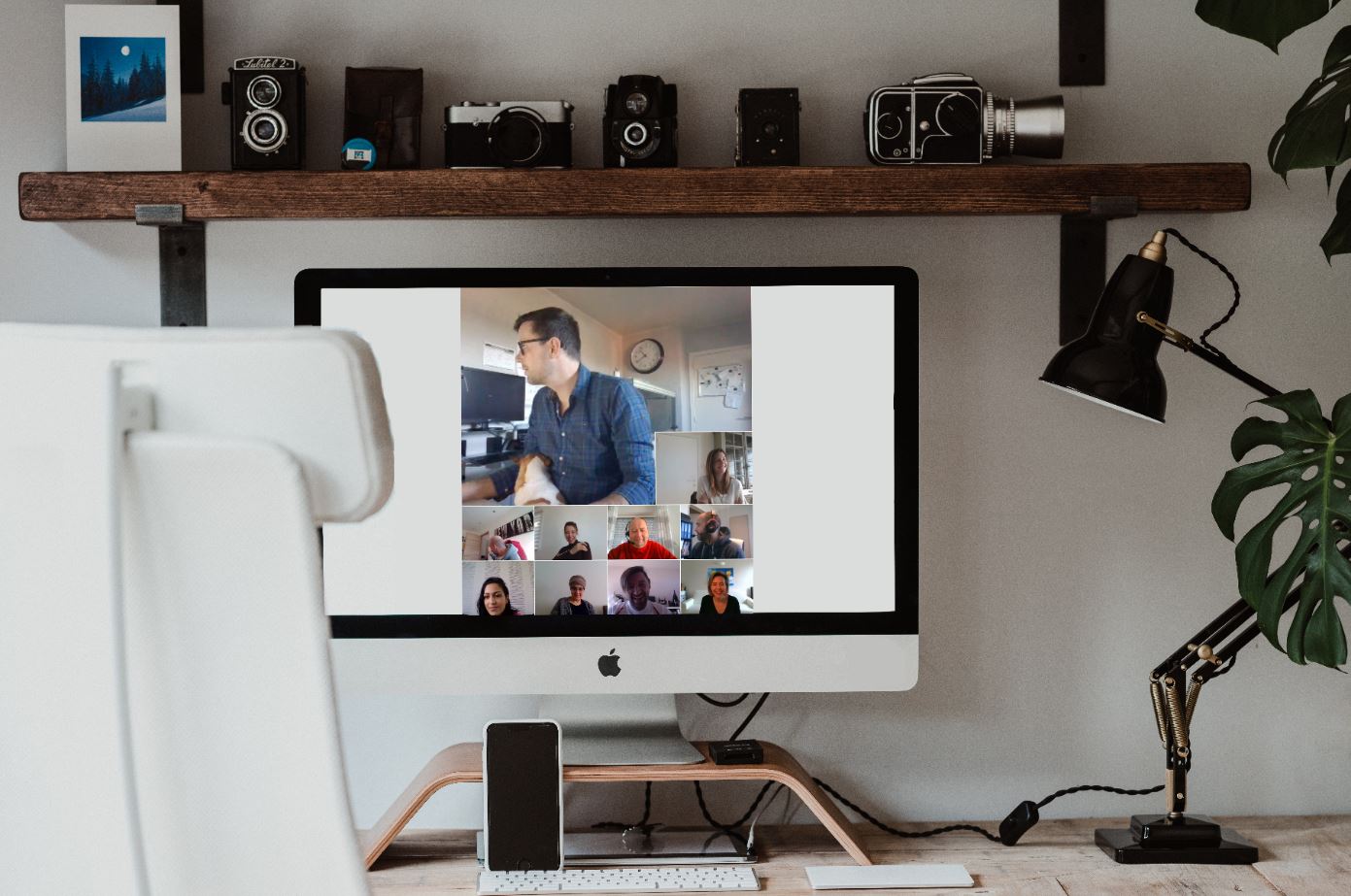 What are the benefits of remote meetings? 
Virtual meetings are increasingly becoming a trend, whether in the office or at home. 

In the workplace, employees who regularly participate in outside meetings quickly noticed the effectiveness of meetings by video-conferencing. No more long trips, wasted hours in traffic jams and the stress of arriving late. These employees clearly prefer (when the situation lends itself to it) to remain in the office, settle in comfortably in a meeting room and start their remote meeting. 

Virtual gatherings have also invited themselves into our private space. Employees are more and more drawn to teleworking in order to facilitate their daily lives. They avoid long and expensive car trips or the mad rush of public transport. By avoiding these long trips, they enjoy more free time at home. It is also useful if a worker has to be at home to receive an important package or to do work which requires intense concentration without being disturbed by their colleagues. 

Whether in the professional or private setting, the employer reaps the benefits. Meeting room rental fees, mileage expenses or public transport costs are greatly reduced. It also results in a reduced need for workspace. Several companies now use the flex-desking system (a little-known term, perhaps we should quickly describe what it is) and some are even thinking, in the future, of no longer having dedicated offices by making teleworking the norm for all their employees.
 
Using a virtual meeting platform is also an environmentally friendly gesture: less travel by car, less business travel and, therefore, less pollution. 

Thus, virtual meetings offer many socio-economic and ecological advantages. They are generally easy to organize and allow employees to improve their productivity while being in all four corners of the world.
For all these advantages, remote meetings have continued to become more widespread. The COVID-19 pandemic has increased this trend tenfold by forcing employers to quickly find collaboration and video-conferencing tools so that their employees can remain successful remotely. However, it is essential to use software adapted to your company and to adopt the right reflexes for these meetings to be effective.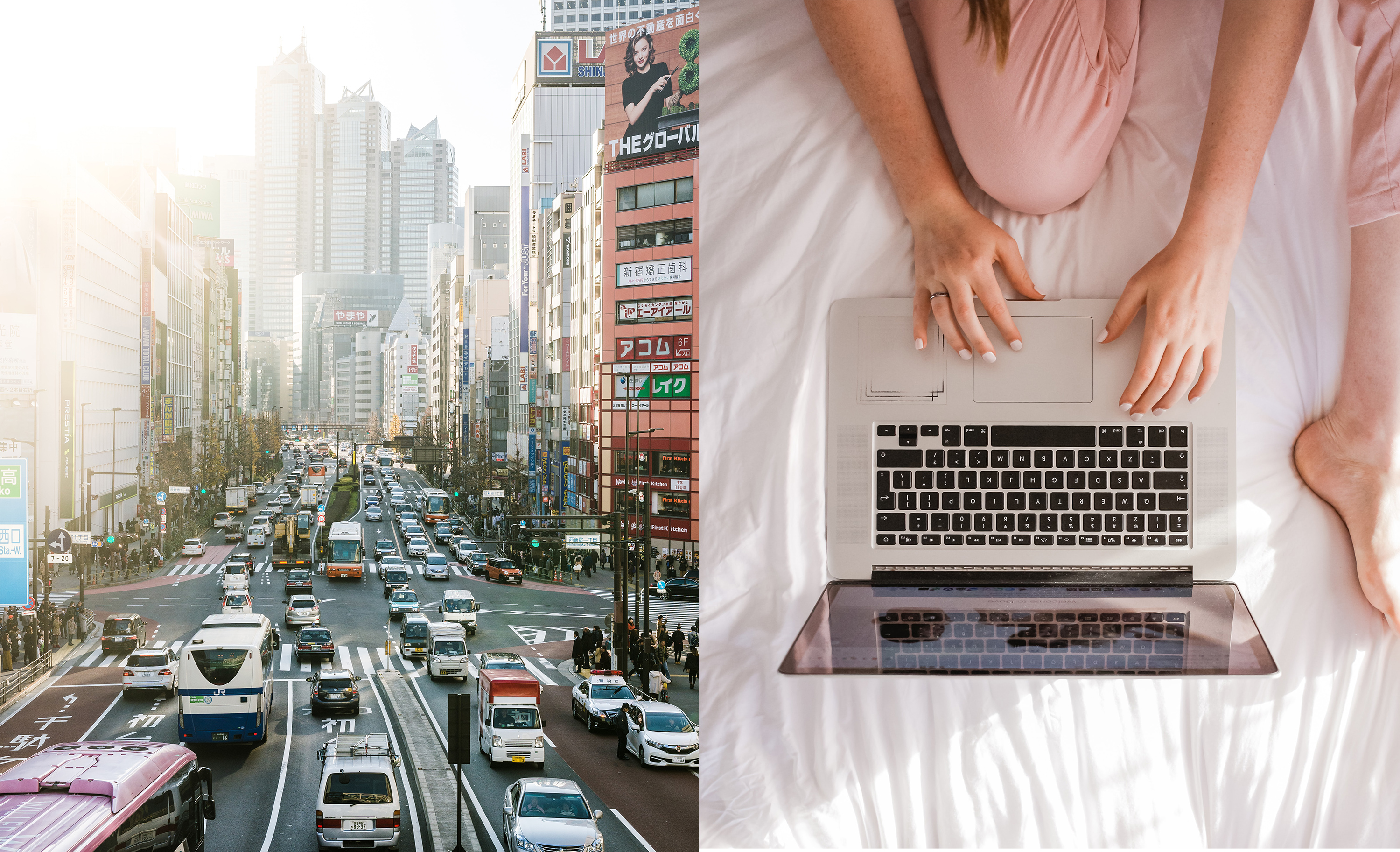 How to properly organize and prepare your virtual meetings?
1.    Coordinate your agendas and agenda items
By definition, a virtual meeting involves several people. Inform them in advance of your intention to hold a remote meeting. Mention the subject of the meeting, the points to be discussed, the names of the other participants, the date and time of the meeting (pay attention to the time difference, the participants are not always in the same time zone as you!). 
Some virtual meeting software allows you to create meetings in advance and gives you a URL for the meeting. Share it with your collaborators as well. That way, everyone receives the same information and can best prepare for the meeting. 
The +: If your company uses a shared calendar tool, add this meeting to each participant's calendar with the meeting URL. This can be automated with some video conferencing software. 
 
2.    A good work environment and impeccable timing 
Ten minutes before the meeting, make sure you are in a quiet place with an excellent Internet connection and where you feel comfortable. It is essential that you are not in an area with traffic or any noise nuisance. If you work from home, ask your loved ones not to disturb you during the meeting time and make sure your pets don't come and say hello to the camera.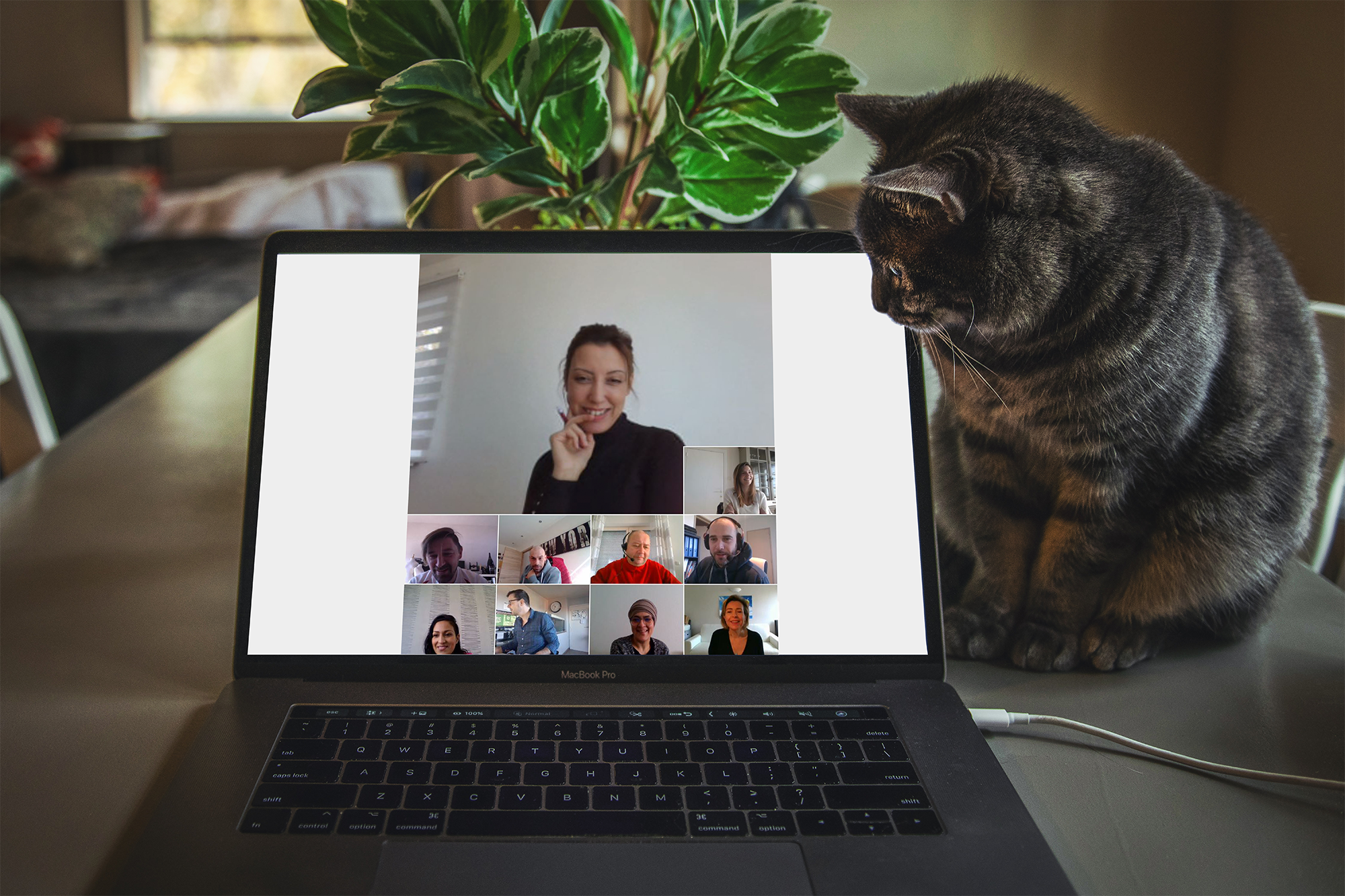 Choose a place with pleasant light, without backlighting. Always check that the decor behind you is neutral, clean and tidy.
The +: If you telecommute often and have regular meetings with people outside your company, it is worth having a poster or roll-up banner (kakemono) printed in your company colors that will serve as your background. 
3.    A test phase
The best virtual meeting software offers you a test phase. This is necessary because it allows you to test your microphone and camera before joining the meeting. You will then be ready to start the meeting under good conditions without having to spend 10 awkward minutes solving technical problems in front of your colleagues and managers. 
 
 
4.    An effective meeting
Make sure that all the participants are present but also that they introduce themselves if they are meeting for the first time. As in a physical meeting, everyone must be able to understand the roles of those participating in the meeting.  
Then review the purpose of the meeting and the list of topics to be discussed.
Just because the meeting is being held remotely doesn't mean that note-taking becomes superfluous. Designate a person to take notes or take collective notes if the virtual meeting platform allows it.

The +: A "leader" can be designated to coordinate the participants, to avoid simultaneous talking by the different parties, and to ensure that everyone gives their opinion.
 
To make the meeting even more effective, it is essential that you choose the right virtual meeting software and the features that suit your needs. 

 
How do you choose the right software for your virtual communications?

A successful remote meeting always starts with choosing an effective tool that is suited to your business needs. 
 
 
1.    Simplicity above all
Good virtual meeting software is, first and foremost, an easy tool to use. Being able to communicate quickly and easily is the key. If the online meeting platform is not intuitive and each participant takes 10 minutes to understand how the tool works, you will waste a lot of time at each meeting. Choose a tool that is accessible and understandable for all types of people, even those who don't have a "tech" profile. 

The +: There are software programs where participants can access meeting rooms without having to download an application or plug-in and without having to register or log in to the software first. All they have to do is click on the URL link and they will be taken directly to the meeting room.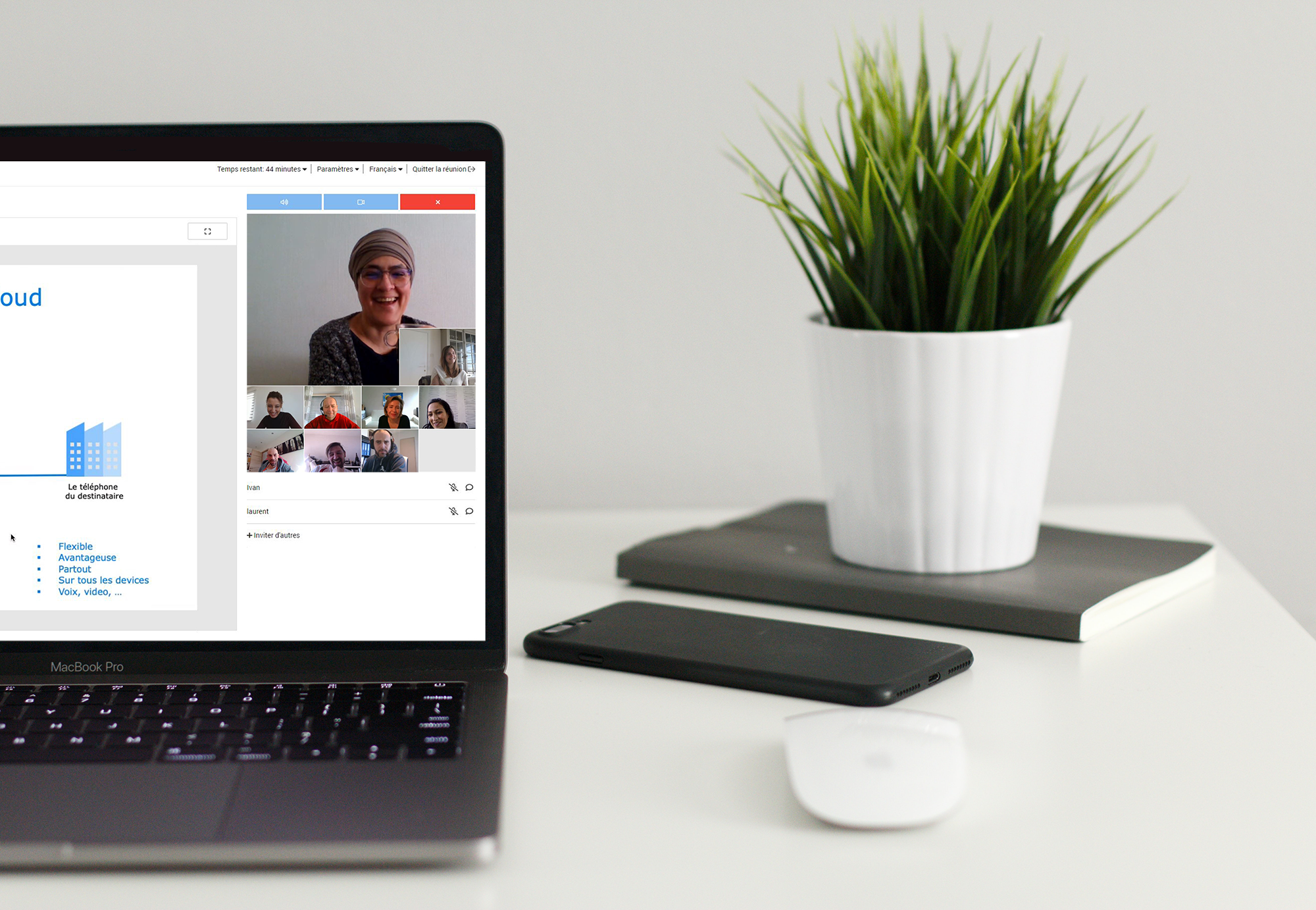 2.    Features that suit you
Several software programs offer you either a video-conferencing platform that is easy to use but which does not include any other features to make virtual meetings more effective, or a variety of functions which complicate use of the platform. 
Take 5 minutes to analyze the needs of your organization. What is essential for you? Here is a list of features that are most often used by businesses: 
Document sharing: possibility of transmitting visual aids in real time thereby facilitating understanding (image, PowerPoint, Word, video, etc.) 
Collaborative or personal note taking 
Screen sharing (see the screen one of the participants directly) 
An agenda (the possibility of writing down the points to be addressed) 
A whiteboard (if a participant needs to draw something) 
 

3.    A test phase
The possibility of being able to test your microphone and your camera is always an additional advantage. 
4.    A secure tool 
Choose a secure virtual meeting service! During your meetings, you are bound to share data about yourself or your company. So, make sure you use software that encrypts your data and protects the confidentiality of your meetings. 

5.    Customizable meeting rooms
Some software offers you the possibility of customizing your virtual meeting rooms, i.e., instead of using a platform with the software logo (Zoom, Teams, Google Meet, etc.), you can insert your own logo, your own colors on the platform and even rename your virtual meeting rooms. Thus, when you send a URL link to your colleagues, clients, collaborators and partners, the link will bring them to "your" personalized platform. 
6.    Possibility of white label 
Some platforms allow you to create your own white label. Not only can you customize your rooms but you can also choose your own URL (meeting.mydomain.com), customize your invitations to virtual meetings and access the APIs (specify what this it is) of the software.

 
Quick comparison of the most popular virtual meeting tools

 
Still don't know which tool is right for you? Here's a quick comparison of the most used software and analysis based on the size of your business and the software you already use. 

Comparative table
 
Zoom

Google Meet

Teams

ALLOcloud Web Meeting

 Strengths

 Strengths

 Strengths

 Strengths

Free account available
Collaboration tools
Collaboration tools
Collaboration tools
Accessible from all your devices
Accessible from all your devices
Accessible from all your devices
Accessible from all your devices
Up to 100 people (free) and 500 people (paid) 
Up to 49 people on screen
Up to 250 people
Video-conferencing with different backgrounds
Recording, screen and document sharing, whiteboard, recording
Participants are placed in sub-rooms for small group discussions
No additional call charges for participants who join the meeting by phone
Recording, screen and document sharing
Instant messaging
Screen sharing and annotation
Full integration with Google apps
Instant messaging
Test phase available
Additional features
Possibility to send docs and instant messages via Chat
Full integration with Teams apps
Very easy to use, no need to download an app or even register 
Easy to use
Recording, screen and document sharing
Tabs to easily find information
User security and privacy
Member connectivity view 
Automatic subtitling possible
Automatic subtitling possible
Customizable rooms (logos, colors, names of rooms) and white label
Very useful for individuals (remote family reunions, etc.)
No time limit for calls
No time limit for calls
No time limit for calls

Disadvantages

Disadvantages

Disadvantages

Disadvantages

Download the app and create an account for all participants
No waiting room for participants who join the meeting in advance
No waiting room for participants who join the meeting in advance
Only one person can share their screen at a time
Time limited to 40 minutes
Only one person can share their screen at a time
No "grid view": no view of all participants in "grid" mode
Up to 30 participants (100 for Webinars)
"Zoom-bombing" security issue
User privacy can be improved
User privacy can be improved
 
Purchase of an audio-conferencing package for calls
 
Download the app to have all the features
 
Which software for which type of business?

Do you run a very small business? Try the free version of Zoom, Google Meet or Web Meeting from ALLOcloud. If you are at the head of an SME, choose the ALLOcloud Web Meeting solution as it will offer you everything you need. If you are a G Suite or Microsoft 365 user, use Google Meet or Microsoft Teams to have a more streamlined experience. Are you a large company? Choose the Zoom solution.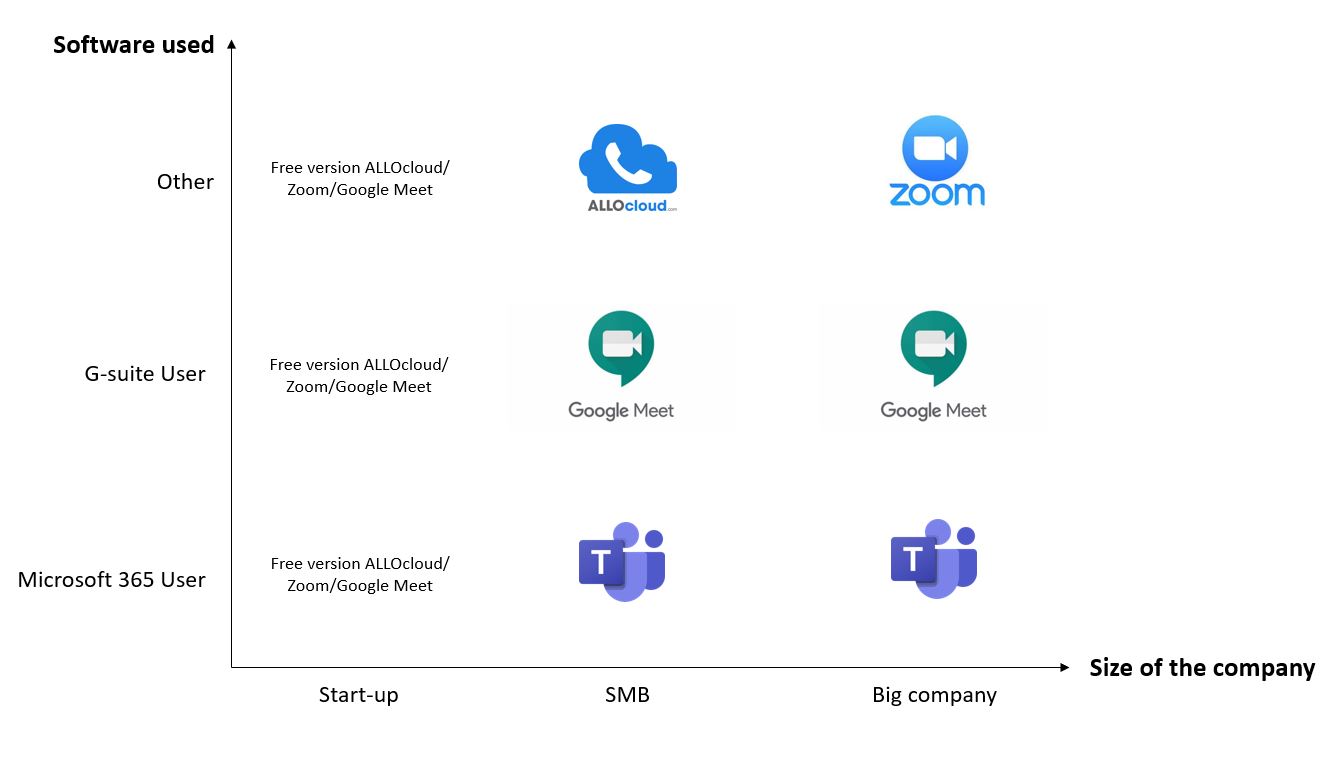 For more information, read this article which also compares the most popular video conferencing platforms. 
If you still have doubts, we strongly advise you to test the platforms and judge for yourself. 
 
Click below to instantly access and test ALLOcloud's Web Meeting solution for free: