Microsoft supports voice communications in their Teams offering (Teams is due to replace Skype for Business over time and is a fully hosted service). Telephony features are available with the MS Phone System add-on. Connection to the PSTN (traffic and phone numbers) can either be provided by Microsoft (Call Plans) or through a 3rd party SIP Trunk provider certified by Microsoft. The latter is called "Direct Routing" by Microsoft.
ALLOcloud has deployed a Teams-certified SBC infrastructure which allows to provide SIP Trunking (aka Direct Routing). Additionally, thanks to the versatility of ALLOcloud, we can offer multiple exciting scenarios to Teams customers.
SIP Trunking - Direct Routing
This is the regular SIP Trunking offering of ALLOcloud but with guaranteed interoperability with Teams.
Benefits:
Works on any quality Internet connection

Activation in a few minutes

Scalability of the capacity (2 to 60 simultaneous calls)

Cost-effective numbers and traffic

Available in many countries (BE-NL-FR-DE-UK-CH-ES-IT-AT-DK-SE-IE)

Pricing: see www.allocloud.com/sip-trunking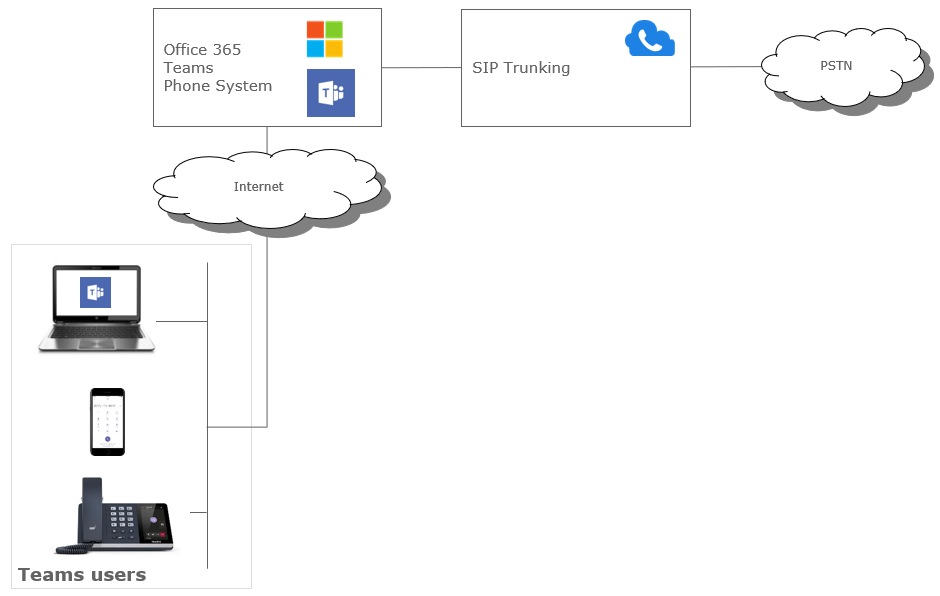 Smart SIP Trunking - Smart Direct Routing
The ALLOcloud platform can do much more than just SIP Trunking. By using some of the intelligent features of ALLOcloud Business Telephony, you can add smart features to your SIP trunk such as:
International numbers (60+ countries)

Calendar integration to route calls depending on values in an iCal calendar

IVR (press 1 for Sales, press 2 for Support…)

Voicemail to Email

Virtual fax

Call recording

Software integrations (we have connectors to 250+ business applications)

Etc.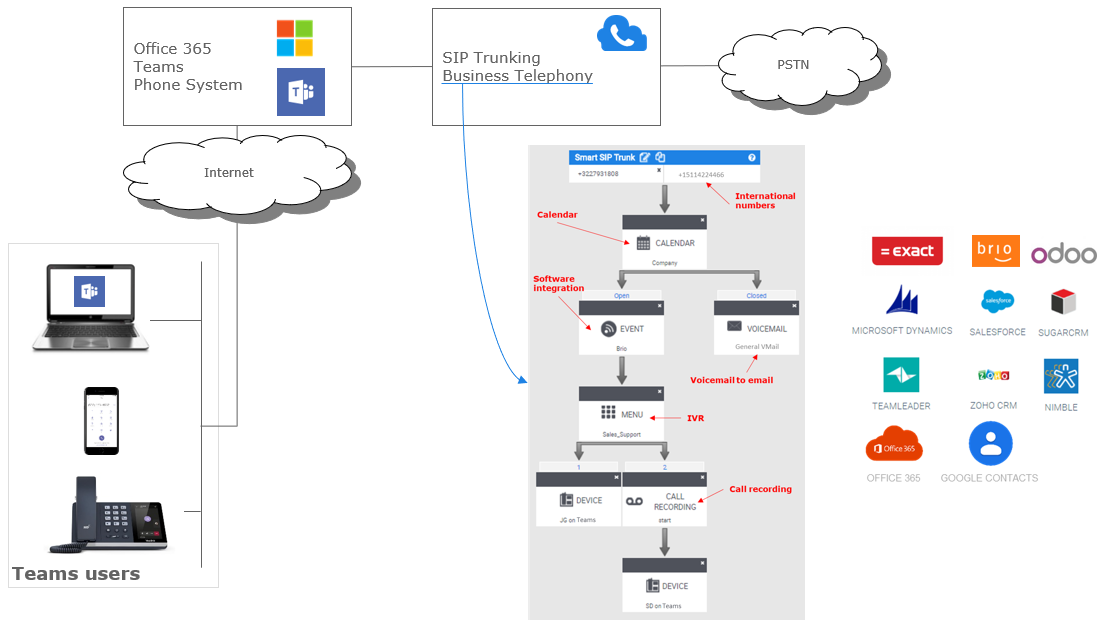 Mixing Teams with ALLOcloud Business Telephony
Not all users are the same. While Teams may be a great solution for some, others may have needs that are better fulfilled by a traditional SIP Cloud Telephony service such as ALLOcloud. The good news is that both platforms can easily coexist and communicate within the same organization.
Some benefits of combining ALLOcloud Business Telephony with Teams:
Support for a multitude of end-points (phones, specialized SIP end-points, analog devices etc.)

Zero-touch provisioning of many end-points

Very simple to deploy/administer

Advanced telephony functions

Etc.