ALLOcloud Business Telephony replaces your local PBX and traditional phone lines with VoIP to save costs. Our Cloud IPBX service includes advanced features to improve the productivity of your employees and the contact with your business partners.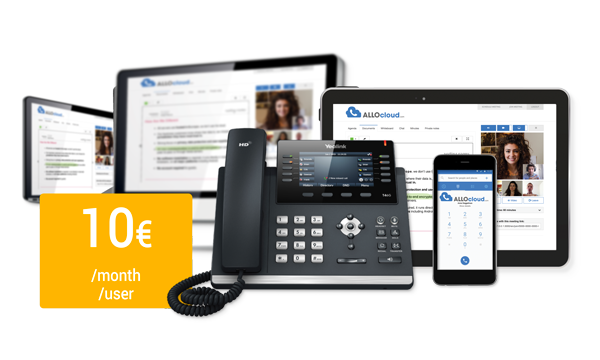 No upfront investments, no maintenance fee
No more ISDN subscriptions
Cheaper tarrifs
Flexible pay-as-you-use model
Fast and convenient communication for contacts: one number, personalised voice mail, etc
More simultaneous calls
Full mobility
Rich telephony features such as call forwarding, interactive reception menu, etc
Integration with Office 365, Google Apps and many CRM or ERP systems
For who ?

For who ?

ALLOcloud Business Telephony addresses any organization that wants to save up to 80% without having to invest in expensive equipment.

We offer advanced telephony solutions for small businesses with one user up to large enterprises with thousands of users. 
Features

Features

Advanced telephony: call diversion, call forwarding, groups, call pickup, welcome message ("Welcome to Johnson Inc"), music on hold, viewing extensions of your colleagues, second call etc.
Custom Voicemail: "Hi, this is Marc, I'm unavailable for now. Thank you for leaving me a message." The message is emailed to you immediately.
Virtual Fax: incoming faxes are converted into pdf and forwarded by email. Outgoing faxes can be sent from the user portal.
Conference call: internal and external calls with specific conference number and PIN security. Announcement of incoming and outgoing conference call members.
Video Calls: receive video calls from the office door-phone on your phone, computer or tablet, whether you are in the office or on-the-move.
One number: communicate a single fixed number to your contacts. ALLOcloud sends your calls to your landline, mobile phone, softphone or voice mail, depending on your availability and preferences.
Softphone: install a softphone on your computer, tablet or smartphone and communicate with your contacts from all your devices.
International Numbers: take international numbers (+33, +1, +44 etc.) so that your contacts can call you on a local number. Calls to these numbers are free to you.
Price

Pricing
Ressources