ALLOcloud Web Meeting replaces expensive travel time with convenient virtual meeting rooms. It is fully secured and includes advanced features for easy collaboration with all your business partners, co-workers and home workers.
All you need is your web browser! 

Our Flex Room contains all types of Meeting Rooms (see the "Features" tab) for a price of € 25 per month excluding VAT.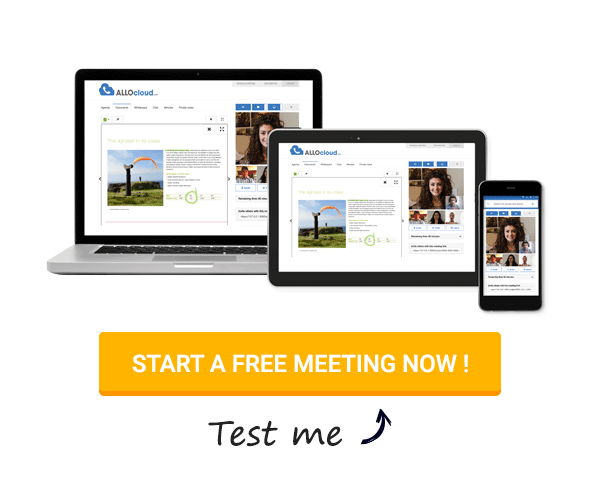 No more travel. You only need a computer or portable device and an internet connection to meet whenever and wherever you want.
Invite business partners and co-workers by email. They only need to click on a link to enter the virtual meeting room.
We offer the latest text, audio and video chat technology that allows clear voice and video communication.
Encrypted to protect your data.
Located in Europe for more privacy.
Bullet-proof confidentiality with Secret Room service.
Our latest browser based WebRTC technology for qualitative video/audio conferencing and screen sharing.
.No software installation. Browser based sharing of presentations, agenda's, notes and even white boards.
Compatible with Windows, OSx, Linux, and most common browsers.
For who ?

For who ?

The ALLOcloud Web Meeting service offers a secured and convenient virtual meeting room to organisations that want to improve productivity and collaboration between business partners, co-workers and home workers.

This can be done via audio and video conferencing, by giving online slideshow presentations, using whiteboards and by sharing documents, agendas, chats and notes. 

You can invite your business partners and co-workers in just a few seconds. Because our solution is fully web based, your partners only need a computer and an internet connection.

This service is available worldwide.

 
Features

Features

| ALLOcloud Web Meeting | Meeting Room | Secret Room | Board Room | Webinar |
| --- | --- | --- | --- | --- |
| Maximum # participants | 5 |  5 | 10 | 100 + 3* |
| Audio/Video/Chat | Yes |  Yes | Yes | Yes |
| Whiteboard/Screensharing/Documents | Yes | Yes | Yes | Yes |
| Shared and private meeting minutes | Yes | Yes | Yes | Yes |
| Recording | No | No | Yes | Yes |
| Off-the-Record (peer-2-peer/advanced encryption) | No | Yes | No | No |
| Customer Branded Room | Yes | Yes | Yes | Yes |

* 50 students + 3 teachers
Price

Pricing

Our "Flex Room" costs € 25 excl. VAT per month. It includes the Meeting Room, the Board Room, the Secret Room and the Webinar.

The number of meetings and organizers is unlimited. However, you can only have one meeting at a time.

For example: if you want to have 3 meetings at the same time, you will need 3 "Flex Room", therefore € 75 per month. If you want to have 3 meetings on the same day but at different times, a single "Flex Room" will be enough.
Ressources